Take a Duck to Class
TD BANK "TAKE A DUCK TO CLASS" ESSAY CONTEST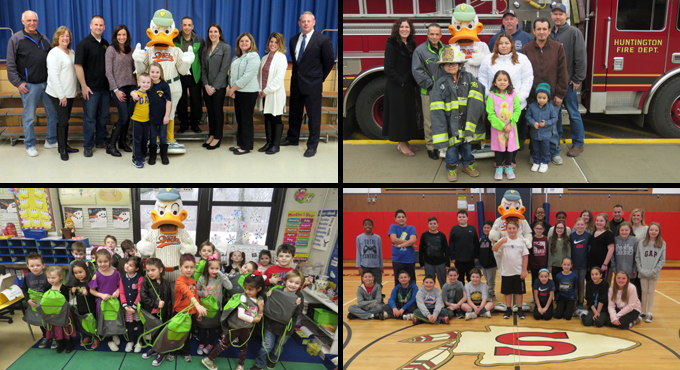 QuackerJack visits schools of four essay contest winners
The Long Island Ducks and TD Bank have announced the four winners of the 2017 TD Bank "Take a Duck to Class" essay contest. Thousands of outstanding essays were once again submitted by students all across Long Island throughout the fall.

Students were able to pick up entry forms at Bethpage Ballpark, the home of the Ducks, or download them online at LIDucks.com. Contestants were required to submit an essay of 250 words or less regarding the topic "Who is a hero in your community and why?" The four lucky winners had Ducks mascot, QuackerJack, visit them at their school for an hour, and each received a Visa Gift Card, courtesy of TD Bank.

The first winner was Megan Heffernan, a third grade student at Fifth Avenue Elementary School in the Northport-East Northport School District. Megan's hero is her dad, who is the East Northport Fire Department Chief, a policeman and an army veteran.

The second winner was Victoria Rice, a kindergarten student at Fort Salonga Elementary School in the Kings Park Central School District. Victoria chose her triplet sister, Cecilia, who has shown strong fight and bravery through three brain surgeries, as her hero. She also recognized the Kings Park EMTs and Fire Department, who help take care of Cecilia, as heroes in her community.

The third winner was Jeremy Romero, a second grader at Flower Hill Primary School in the Huntington Public Schools District. Jeremy selected the members of the Huntington Fire Department as his hero.

The fourth and final winner was Jacob Rubbo, a fifth grader at Tamarac Elementary School in the Sachem Central School District. Jacob's hero is Tim Szlosek, President of the Spectrum of Dreams Foundation, which helps children and families on Long Island that are affected by a special need situation and financial hardship.

Please visit our Ducks in the Community page to read about each of the school visits made by the team.