Happy New Year Ducks fans! The 2016 calendar year has officially begun, and we hope everybody enjoyed their holiday season. The start of a new year is exciting for so many reasons. Opening Day feels like it's just around the corner, and teams begin to sign players for the upcoming season. Although there is no news to report just yet regarding additions to the Ducks' roster for 2016, there have been some items of note regarding a few team alumni. We'll have some more in-depth stories on these topics in the coming weeks, but here are a few stories to help get the new year rolling:

2012 Teammates Earn Managerial Positions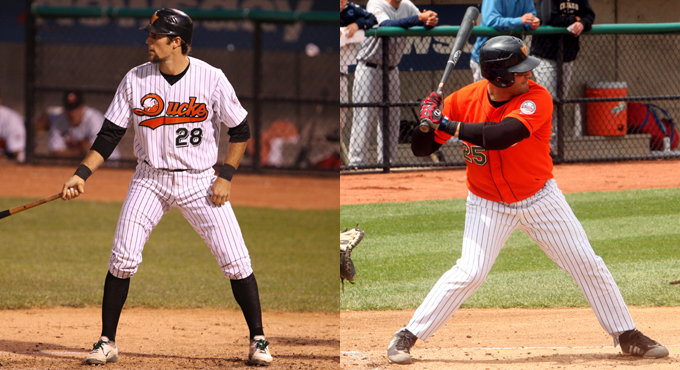 Long Island's roster in 2012 featured a close-knit group of players, including many veterans, who came together during the postseason and ended the Ducks' championship drought at eight years. Now, just over three years later, two players from that team have landed managerial jobs in affiliated baseball. Mitch Canham, who was the starting catcher during the championship run, was named the manager of the Clinton Lumberkings. They are the Single-A affiliate of the Seattle Mariners in the Midwest League. Canham played this past season with the Lincoln Salt Dogs of the independent American Association after playing two seasons of affiliated ball with the Royals and Nationals organizations. This will be his first experience coaching professionally, though he has provided baseball instruction to kids through BASE By Pros, LLC, of which he is the founder and CEO.

In addition, Ryan Garko was chosen as the next manager of the Tulsa Drillers, the Double-A affiliate of the Los Angeles Dodgers in the Texas League. The former big leaguer dominated with the Ducks early in 2012 and was rewarded with a contract from the Tampa Bay Rays organization in May. Since his stint with Double-A Montgomery, he took a year off before joining his alma mater, Stanford University, as an assistant coach. This will also be his first experience coaching in professional baseball. Coincidentally, neither Canham nor Garko ever played in the organization which they are now managing in. They join a growing list of Ducks alumni who are managers in affiliated baseball, including 2012 ALPB champion Shawn Williams (Lakewood – A, Phillies) and 2011 Duck J.R. House (Visalia – A+, Diamondbacks).

2010 All-Star Coaching in the Capital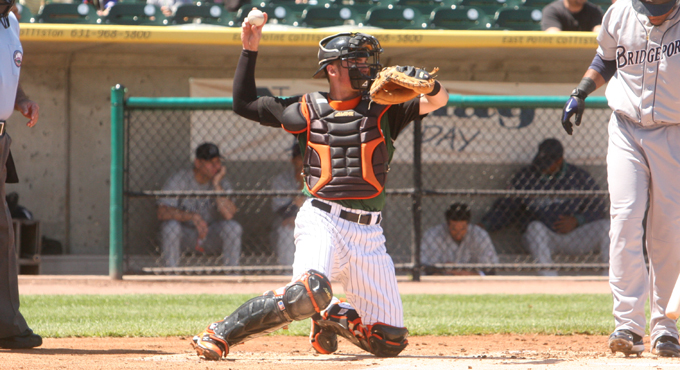 Brendan Monaghan was a bright spot during a tough season for the Ducks in 2010. Despite Long Island going 70-68 and missing the postseason for the first time since 2003, the catcher put together impressive numbers. He batted .291 in 72 games and earned an All-Star selection in a year which the Ducks hosted the midsummer classic. Since then, he has held several coaching positions in the college ranks and was recently named the pitching coach for George Washington University. Monaghan has previously served as an assistant coach and recruiting coordinator with UMASS Lowell and as a volunteer assistant coach with St. John's University, where he played collegiate baseball.

Veal Inks Contract with Rangers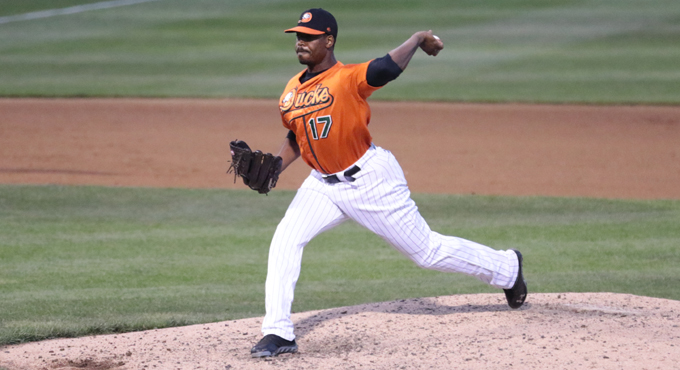 Donnie Veal had a whirlwind of a season in 2015. He began the year in the Atlanta Braves organization and made five appearances with the big league club between April 30 and May 31. However, he was released in June and went on to find success in the bullpen with the Ducks, going 1-0 with a 1.45 ERA in 20 games. Now, the left-hander will have another opportunity to make it back to The Show. The Texas Rangers signed Veal to a minor league contract just before the end of 2015, making it the fifth organization he has played for (Cubs, Pirates, White Sox, Braves). He possesses a hard fastball and has five years of experience at the game's highest level. We'll be keeping a close eye on where he ends up out of Spring Training and if he can join the list of Ducks alumni to return to the big leagues.

Ducks Flocking All Over Long Island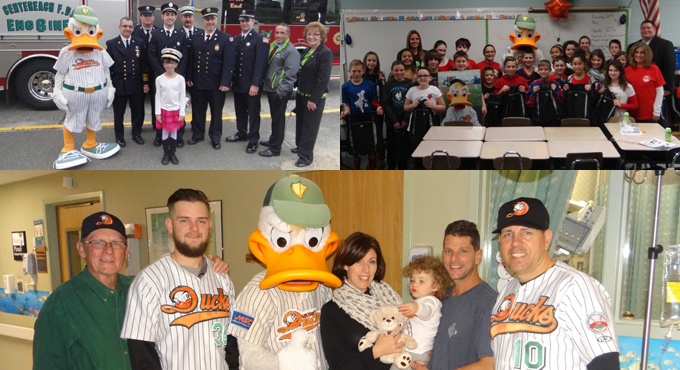 The Ducks ended 2015 and will begin 2016 with a very active presence in the Long Island community. As part of their annual tradition, the team visited three hospitals in the area to help distribute toys to children in pediatric units. These gifts were donated by fans during the month of December at the Waddle In Shop. Helping make the visits to Good Samaritan Hospital, North Shore LIJ/Southside Hospital and Stony Brook Children's were co-owner/coach Buddy Harrelson, manager Kevin Baez and pitcher Bruce Kern. The Wiseman from WHLI also joined in for the fun.

In addition, the Ducks have made three school visits as part of the annual TD Bank "Take a Duck to Class" essay contest. Samantha Rivera, a third grader at North Coleman Road Elementary School in Centereach, Sean Napoli, a sixth grader at Jonas E. Salk Middle School in Levittown, and Kevin Mauri, a fourth grader at Bayview Elementary School in West Islip all had special assemblies to honor them for writing winning essays. Along with getting a visit from QuackerJack, they were joined by those who they chose as their "Hero in the Community" in their essays. Samantha wrote about the Centereach Fire Department, Sean highlighted his popa (grandfather), Anthony, who is a veteran of the United States Navy and a survivor of stomach cancer, and Kevin talked about his friend's dad, Kenny, who is a Suffolk County K-9 Police Officer. On January 22, the Ducks will recognize Ayse Yildiz, a fifth grader at Santapogue Elementary School in West Babylon.

As the 2016 year begins, we hope that you have checked out our official team blog, "Quack of the Bat"! We post news items like this along with feature articles that take fans beyond the headlines. Included are quotes directly from players and coaches, multimedia content, and much more. If you're interested in reading this exclusive content, please CLICK HERE and let us know that you would like to receive notifications when new stories are posted.