Ducks visit Skeeters for final Spring Training contest
(Sugar Land, Texas, April 16, 2013) – The Atlantic League champion Long Island Ducks and the Sugar Land Skeeters played to a scoreless tie in the Ducks' third and final Spring Training game of the year.
Both teams will open the 2013 regular season on Thursday night at Constellation Field, with first pitch slated for 8:05 p.m. EDT. Fans can follow all the action for Thursday's contest live on the Ducks' Official YouTube Channel, www.youtube.com/ducksbaseball. Michael Polak will be calling the play-by-play. Fans unable to listen to the game can also follow the Ducks at www.twitter.com/liducks for updates throughout the contest.
The following is a live blog from Tuesday night's workout and exhibition game between the Ducks and the Skeeters:
9:50 P.M. – Final pitching lines:
Ducks – 10.0 IP, 5 H, 0 R, 2 BB, 11 K
Skeeters – 10.0 IP, 4 H, 0 R, 1 BB, 8 K
9:45 P.M. – Skeeters put two on in the 10th on an infield single and an error, but T.J. Hose gets Perez to fly out to right. This one's going to end in a scoreless tie. Ducks will have a workout here at Constellation Field tomorrow. Thanks for following along tonight Ducks fans!
9:38 P.M. – WOW! Ducks are flashing some leather tonight! Danny Perales just made a full extension diving grab in center on a sinking liner off the bat of Steve Moss for the first out in the 10th. Phenomenal catch!
9:35 P.M. – Gabe Suarez singles to right, and Joash Brodin also punches a base hit to right with two out, but Navarrete is thrown out at home to keep the Ducks off the board.

9:25 P.M. – Ray Navarrete leads off the tenth inning with a single to left. First hit for the Flock since the second inning. Let's see if the Ducks can rally to plate the game's first run!
9:20 P.M. – Jared Lansford allows a lead-off single in the ninth but strikes out Josh Pressley and gets Travis Scott to hit into a 1-6-3 double play! Scoreless after nine in Texas! Both teams will play a 10th inning for pitchers to get their work in. Roberto Giron will pitch for the Skeeters and T.J. Hose for the Flock.
9:05 P.M. – Couple more pictures from tonight, including Joash Brodin swinging at a pitch and Dan Lyons waiting on deck. We remain scoreless after eight innings on a humid, hazy night here in Texas. Temperature right now is about 73 degrees, approximately 20 degrees warmer than in Central Islip.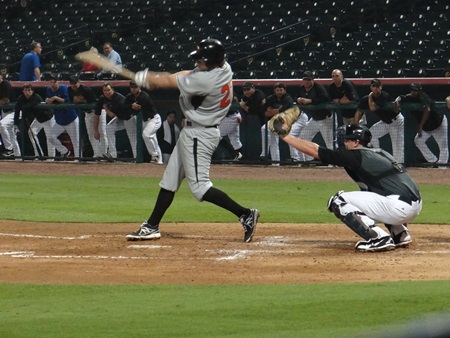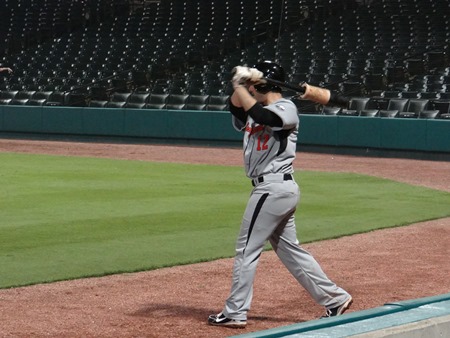 8:51 P.M. – Graham works around a walk and a single to keep the Skeeters off the board in the seventh! Ducks relievers have allowed just one hit and one walk while striking out eight in five innings after Dontrelle Willis' two scoreless innings to start the game!
8:47 P.M. – We finally have our first hit since the second inning as Josh Pressley singles to center off Connor Graham. Matt Fleishman, who took over in right for Adam Bailey in the seventh, just made a gorgeous diving catch to rob Steve Moss of a hit!
8:35 P.M. – Both sides pitching very well here in Texas! Gregori Aquino and James Houser each just threw perfect 1-2-3 innings in the sixth for the Skeeters and Ducks, respectively. Still no score as we move to the seventh.
8:20 P.M. – Three-up, three-down for both sides again in the fifth. Adam Miller threw for Sugar Land, and closer Leo Rosales pitched for Long Island! Below is a shot from the broadcast booth behind home plate. The Ducks' new road uniforms look sharp! What do you think fans? Send us a tweet and let us know. Our handle is @LIDucks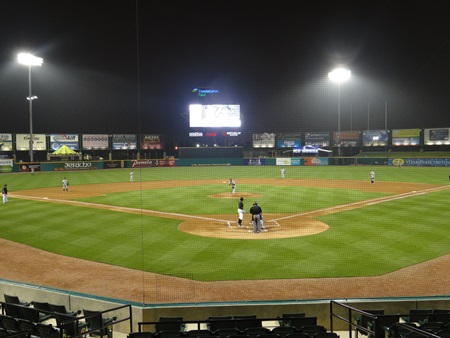 8:07 P.M. – Both sides are retired in order in the fourth. Jeff Farnsworth pitched for the Skeeters, and Eric Niesen struck out two for the Ducks!
7:52 P.M. – Masterful inning by Snell as he retires the side in order and strikes out both Fernando Perez and Chase Lambin looking! Willis' final line: 2.0 IP, 2 H, 0 R, 1 BB, 0 K. 0-0 after three innings.

7:45 P.M. – Another shot of Willis dealing on the mound tonight at Constellation Field. Meanwhile, Danny Perales draws a two-out walk, but the Flock get nothing further. Willis departs after two innings and is replaced by another former big leaguer, righty Ian Snell!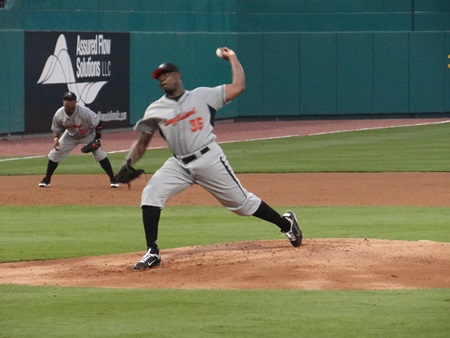 7:40 P.M. – After walk to Koby Clemens and an infield single by Steve Moss, Willis induces a 5-4-3 double play off the bat of Aaron Bates and a groundout to short by Dominic Ramos. Still scoreless after two.
7:30 P.M. – Adam Bailey laced a two-out double to left-center, but the Ducks were kept off the scoreboard in the second
7:27 P.M. – Shot of Willis pitching in the bottom of the first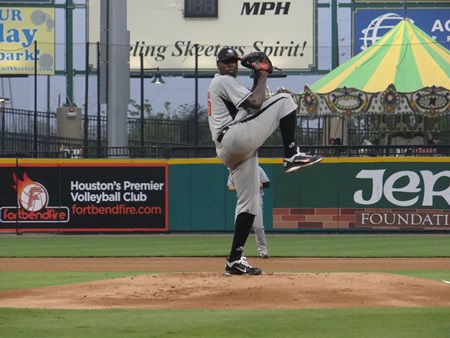 7:22 P.M. – Dontrelle Willis induces a pair of grounders to third, allows a single to Dustin Martin but makes a nice grab on a comebacker to the mound off the bat of Josh Pressley to end the inning!
7:13 P.M. – De La Vara retires the Ducks in order in the top of the first. Grounder to second, pop out to second, fly out to right.
7:10 P.M. – The Skeeters have taken the field. Gilbert De La Vara's ready on the mound, and Danny Perales has dug into the batter's box. Let's play ball!

7:00 P.M. – Some shots of your Ducks getting ready for tonight's game. Dontrelle Willis throwing to Ramon Castro and the rest of the Ducks stretching out on the field!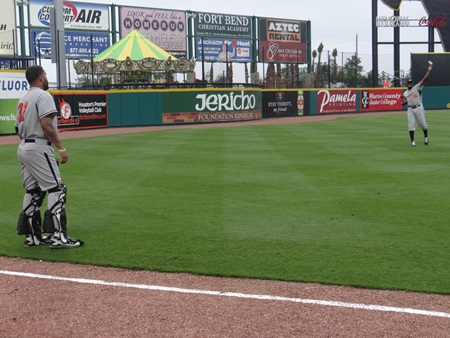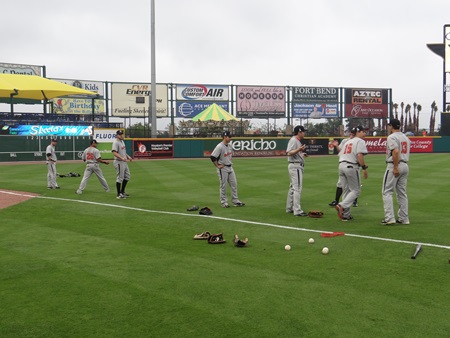 6:40 P.M. – Both teams are heading to the field now to begin their pre-game stretching. Baseball's coming up in less than 30 minutes!
6:15 P.M. – Just was given Sugar Land's lineup for tonight. It is as follows:
Fernando Perez – CF
Chase Lambin – 2B
Dustin Martin – RF
Josh Pressley – DH
Koby Clemens – C
Steve Moss – LF
Aaron Bates – 1B
Dominic Ramos – 3B
Anthony Granato – SS
Gilbert De La Vara – LHP

6:00 P.M. – Tonight's starting lineup for the Ducks from the desk of manager Kevin Baez! Dontrelle Willis gets the start and is scheduled to pitch the first two innings!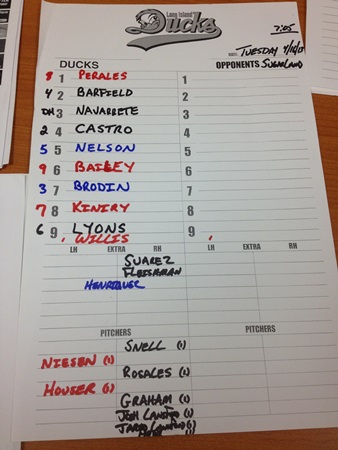 5:40 P.M. – Ramon Castro takes his cuts in the cage. BP is wrapping up soon. Lineups to come shortly!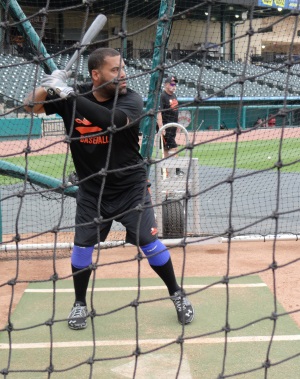 5:15 P.M. – Your 2013 Ducks are on the field for batting practice! Cloudy skies overhead but no rain in the forecast for now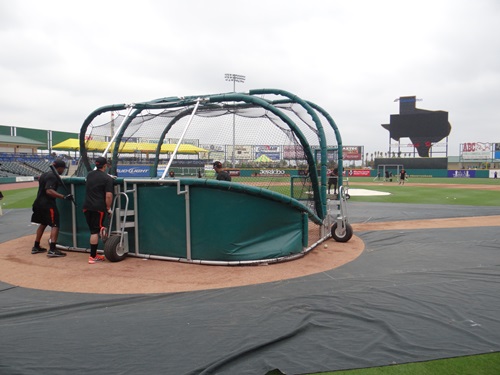 4:30 P.M. – The sun is trying to peek through the clouds here at Constellation Field and the temperature is about 79 degrees. Skeeters are on the field taking batting practice while the Ducks are beginning to stretch.
###