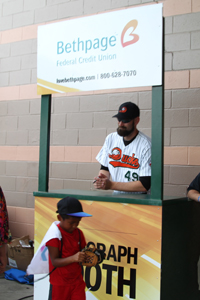 The Ducks have various interactive sponsorships for services, games, and areas of Bethpage Ballpark.

Customer Service: The customer service booth is a frequently visited area for fans with questions before, during, and after the game. Contest winners and fans that are paged are also directed to Customer Service. This sponsorship includes a PA announcement before every game and signage above the booth.
First Aid Center: Fans with medical needs are directed to the first aid center. This sponsorship includes a PA announcement and signage.

Suite Level Naming Rights: Have the entire suite level of Bethpage Ballpark named for your company. The suite level includes 20 climate-controlled luxury suites, as well as the "Duck Club," which offers waiter and waitress service during the game. Naming rights for the suite level include promotion in ticket guides, park guides, and directional signage. Package also includes a sign on balcony in front of the suite level.

Fast Pitch Game: An extremely popular game where kids get the opportunity to see how fast they can throw a baseball, and get a prize if they hit a target in the giant Fast-pitch inflatable. Sponsorship includes PA announcements throughout the game and a banner on the side of the fast pitch-blow up.

Autograph Booth: Before home games, fans can get autographs from Ducks players at the autograph booth located on the concourse of Bethpage Ballpark. Sponsorship of the booth includes a pre-game PA announcement and color signage on the booth itself.

Yearbook Booths: Located at the East and West entrance gates of Bethpage Ballpark the booths are a popular attraction for fans looking to purchase yearbooks and scorecards at the ballpark. Sponsorship includes color signage on the booths and a PA announcement before each game.