Staff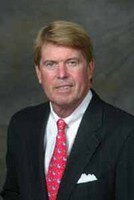 Frank Boulton
Founder/CEO
Frank Boulton was born on Long Island and moved to the Bay Shore/Brightwaters area at the age of three. He graduated in 1969 from Bay Shore High School where he was an outstanding student-athlete. He graduated from Villanova University in 1973 with a BS in Finance. In 1975, Frank married Karen Sarle and moved into their home in Brightwaters where they reside today. They are the proud parents of Whitney and Morgan.

Following graduation, Frank started a twenty-five year career on Wall Street in the U.S. Treasury and MBS bond industry. He retired from Smith Barney in 1994 as Senior Managing Director of the Government Bond Department. He returned to Wall Street in 1996 to serve as the Senior Executive Vice President in charge of the Fixed Income Department for Yamaichi America and served in this capacity until 1999.

Frank is in his 21st season as founder and CEO of the Long Island Ducks, Baseball America's 2007 Organization of the Year. Frank has also owned three other farm teams, two affiliated with the New York Yankees and the other with the Kansas City Royals. He has also owned the Long Island Rough Riders professional soccer team, 2002 D3 National Champions.

Driven by a sense of gratitude, hard work, and dedication, Frank has been involved with many local charities. Frank served as Chairman of the Great South Bay YMCA Board of Managers from 1983 to 1992. He was a Great South Bay YMCA board member for 27 years. Frank also chaired the capital campaign that raised $6.2 million dollars to construct the YMCA. In 1992, the Board of Managers named the gymnasium in his honor.

Frank and Karen Boulton purchased the old Regent Theatre and then donated it to the Great South Bay YMCA. The Boulton Center for the Performing Arts recently celebrated its tenth anniversary and is a point of pride in the downtown Bay Shore community.

Presently, he serves as chairman of the QuackerJack Foundation, the charitable arm of the Ducks, and is a member of the Board of Directors at Empire National Bank. Additionally, Frank is a member of two Halls of Fame -- The Suffolk Sports Hall of Fame (2003) and the Bay Shore High School Hall of Fame (2002, inaugural class). In addition to these honors, Frank has been named one of Long Island's 100 most influential people by the Long Island Business News and has been the recipient of such awards as Entrepreneur of the Year presented by ACIT, Spirit of Long Island Award presented by Promote Long Island, Man of the Year by Long Island Special Olympics, The Harry Chapin Humanitarian of the Year by the LIA, the Grand Marshal of his hometown Bay Shore/Brightwaters St. Patrick's Day Parade and the prestigious St. Thomas of Villanova Alumni Medal, the highest honor bestowed by the VUAA, awarded to individuals who have brought extraordinary benefit to Villanova University and their communities.
Long Island Ducks Ownership
Long Island Ducks Front Office
Part-Time Staff
Medical
Athletic Training Staff